Looking for StarLadder Berlin predictions? We here at CSGO-Tips will try our best to provide you with the best and safest special bets for the upcoming StarLadder CSGO Major.
Before we start, it's important to say that Betway provides us with the best special bets and I plan to focus on this CSGO betting site only. If you don't have an account with Betway yet, click here to sign up and claim €30 in free bets or simply click the button below to start betting. Also, if you want to find more information about Betway, you can read our Betway review.
Remembering IEM Katowice 2019
Before I start breaking down the best StarLadder Berlin predictions, I'd like to show you my special bets for IEM Katowice 2019. $23 bet turned to $50.000 and it provided me with everything I needed in my life. Hopefully, someone tailed this bet and made a fortune as well.
Take note that you can find my thought process and the entire betting slip by reading my "Turning $23 to $50.000 on Betway" post. I'll take a similar approach when it comes to StarLadder Berlin predictions, so don't miss out.
It's also important to mention that Betway will only allow single bets at the time of writing, but a similar thing happened to me on IEM Katowice 2019 and eventually, Betway allowed parlays.
StarLadder Berlin Predictions for Special Bets
There are a total of 11 special or so-called props bets for StarLadder Major. I'll try my best to go over each and every one of those bets just to give you an insight and my opinion. Furthermore, I'll also list my best StarLadder Major predictions below so you can see what am I betting on and what will I avoid.
Don't forget the fact that we're talking about The New Challengers Stage here. If you're not familiar with Major format, make sure you read our StarLadder Berlin betting preview which can be found by clicking here.
StarLadder Berlin Predictions – To Qualify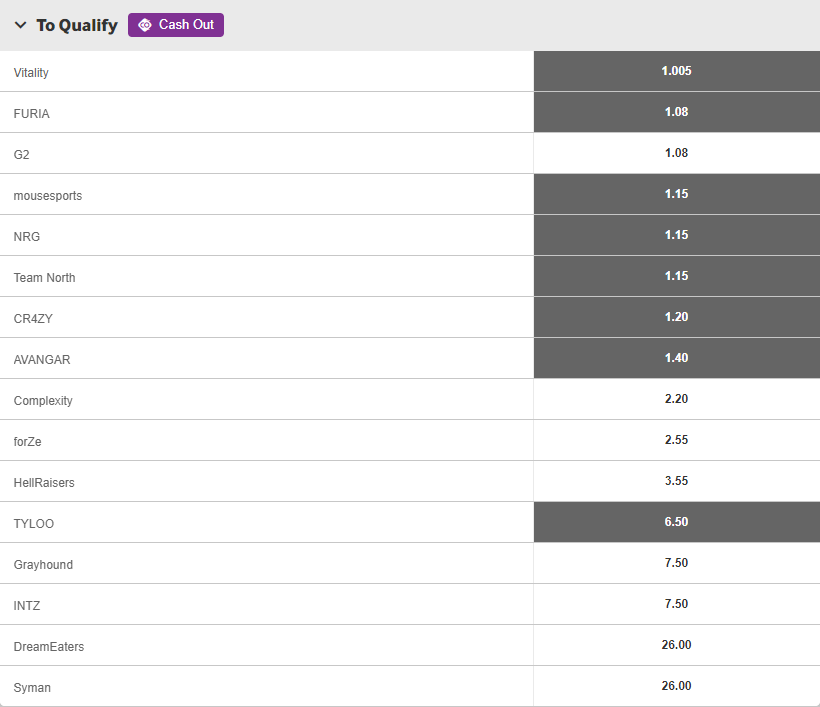 "To Qualify" is our first special bet for StarLadder Berlin. As you learned from our betting preview guide which I mentioned above, you know that only 8 out of 16 teams will advance through. So who are my favorites?
Vitality

mousesports

NRG

CR4ZY

North

AVANGAR

FURIA

TYLOO
Vitality is definitely one of the best CSGO teams in the world now, and they'll definitely advance through to The New Legends Stage.
Both mousesports and NRG are also filled with raw firepower and talent. They should have no problems advancing through. I heavily favor both of these teams to advance.
Please don't sleep on CR4ZY. This Serbian CSGO organization is looking excellent and they've already beaten teams like mousesports and North. They didn't just defeat them, they humiliated them. If you didn't know by now, odds on CR4ZY to qualify already dropped and at the moment, they're sitting around 1.20 while they were 1.60 a couple of days ago.
As for North, AVANGAR, and FURIA. All three of these teams should edge it out and qualify mainly because other teams are lacking in firepower once compared to the three teams I mentioned above. North is propelled by valde who will do everything to qualify for The New Legends Stage. Furthermore, Jame is also a stunning player for AVANGAR and definitely one of the best CSGO players from the CIS region. FURIA is also very good and I'm expecting them to advance.
Lastly, my underdog bet for this one is TYLOO. They've added an excellent player from the Asian region in the form of Freeman and this guy is a beast. Once you pair him with BnTeT I believe that TYLOO can scrap three victories and advance through to the next stage. At 6.50 odds, this StarLadder Berlin prediction holds value.
Other StarLadder Berlin Predictions
In this section, I'll go over random StarLadder Berlin special bets such as "Most AWP Kills in a Single Map by 1 Player", "Most ACES in a Single Map", etc. Truth be told, I don't like these bets a lot, but I'll give you my opinion on them.
Most AWP Kills in a Single Map by 1 Player
To be honest, there are a lot of AWP stars competing in The New Challengers Stage such as kennyS, ZywOo, CeRq, Jame, oskar, etc. All of these guys are capable of delivering over 20 frags with the big green rifle on every match.
From my perspective, I don't think that any of these guys will have enough time to deliver over 30 kills with AWP, hence why I'd recommend a 25-29 kills bet at the odds of 2.20. Once you take into account that Vitality, AVANGAR, and NRG should finish their matches in no time, I simply don't think there is enough time for these guys to rack up over 30 kills with one weapon.
Any Map To Finish 16-0 Prediction
At the moment, odds on this to happen are 16.00 and please listen to me and avoid this. Maybe throw a couple of bucks out of fun and that's it.
Most ACES in a Single Map Prediction
To be honest, I can't remember the last time I saw two aces in a single map in CSGO. So to cut things short, go for Under 1.5 aces at the odds of 1.50. This bet is a steal and I'm definitely adding this one to the best StarLadder Berlin predictions.
Fewest/Most Kills in Single Map by 1 Player Prediction
Let's start with the fewest kills. 5 kills or less is another steal if you ask me as there is a huge skill gap in some of the matches here in Germany. Odds on this bet are also solid and at the moment, they're capped at 1.50.
As for the most kills in a single map, my StarLadder Berlin prediction is 36-40 as there are certain players that can achieve this without any problems. I haven't seen a 40 bomb dropped in a long time and I'm not expecting it in The New Challengers Stage. This bet is also favored by Betway and they're capping it at 2.50.

Best StarLadder Berlin Predictions for Special Bets
This is what you've been waiting for, I guess. Player specials which will also be my best StarLadder Berlin predictions. Let's start with the best bets.
Vitality – Player With the Most Kills
Definitely ZywOo. To be honest, I'd take him at any odds, and at the time of writing, French wunderkind is capped at 1.60. This is definitely the safest StarLadder Berlin prediction I can give you alongside "Most ACES in a Single Map".
North – Player With the Highest HLTV Ranking
I'm leaning towards valde in this one. Even though the Danish star started in-game leading not so long ago, I still believe that he is the only guy that can constantly frag, assist and support on North. Players like Kjaerbye or aizy are simply not consistent and this is why valde is an excellent bet.
NRG – Player With the Highest Headshot %
Just like in my IEM Katowice 2019 parlay, I'm going for Brehze once again. When he is at his best, you feel like he is aimbotting. Headshots everywhere and no one can stop him. Another super safe bet and you should definitely take advantage of this one while the odds are so high.
Grayhound – Player With the Highest Average Damage per Round
To cut this short, erkaSt is the only guy that can compete at a high level in Grayhound and sadly, he is the only one who can do constant damage. One of the easiest StarLadder Berlin predictions as no one can come close to erkaSt and he will definitely top the charts for Grayhound. At 2.55 odds, this is definitely an excellent special bet.
AVANGAR – Player With the Highest HLTV Rating
There is no denying that Jame is the best player on AVANGAR and he is the only reason they're attending this Major. Betway acknowledged that and they lowered his odds by a lot. However, I still believe that this belongs to the best StarLadder Berlin predictions as Jame tends to save a lot and pad his stats. All in all, odds on Jame are 1.70 and this is definitely free money if you ask me.