I will try to explain what happened to MIBR in this article. The problem of this team is not new, it started a few years ago but no one from the team saw it coming.
Team MIBR is formed in January 2018. However, this is not a new team, the team core dates back from July of 2015. Back then, this team played under the banner of Luminosity gaming. Let's see the full history of this team.
Luminosity Gaming
2015
This team was created in February 2015. They did not achieve anything significant until they chosed to sign ex-Keyd Stars (FalleN, fer, steel, zqk and boltz). In November, the same year, fnx, TACO and zews came from Games Academy to replace boltz, steel and nak. The famous Brazilian roster was created, and it contained fnx, FalleN, fer, codzera and TACO with zews as a coach. This roster finished as a 7th placed team in 2015 on HLTV list.
2016
They did good in 2016, they even won MLG Major at Columbus after beating Natus Vincere 2-0. A month after that, a team felt a need to change the organisation and the whole roster joined SK Gaming.
SK Gaming
2016
They won another Major in 2016, ESL One Cologne, only this time it was under the SK Gaming banner. The team did a great job under SK banner in 2016 and finished the year as a second-placed team.
2017
I don't know if you can remember, but 2017 was the most competitive year in CSGO history so far. A team created of superstars, FaZe Clan is created in that year. Astralis was also dangerous, the best team in 2016 and one of the favourites to be the best in 2017. However, SK managed to win against both teams and they ended a year as the best team in 2017 without winning a Major. This was their era and everyone was afraid to play against them. It felt like they can't lose.
2018
Things started to go sideways for this team in 2018. Natus Vincere became one of the best teams and the era of Astralis dominance started. They tried to change something, and they replaced their statistically lowest player TACO with Stewie2K.
2018
The team felt a need to change organization once again and they all left SK and moved to MIBR. On June, 23rd MIBR announced their new roster formed of the former SK Gaming players. This time, the weakest link in the chain was boltz and he was replaced with tarik. The next six months were hell for this team. They did not do well and they finally realized that they can't play without a support player so they brought back TACO and Stewie2k went to Team Liquid. At the end of 2018, they were the 4th placed team which was not so bad after all.
2019
This is the worst year for this team. They are losing matches one after another. They wanted to go back to full Brazilian roster so they brought felps and tarik went to NRG. If we look at their ranking, you can see that the problem started in January this year, right after felps joined the team. Players agreed that felps was the problem and he was replaced with LUCAS1. And guess what, nothing changed. All of a sudden, coldzera leaves the team too and zews is now playing at his position. They are currently ranked as a 15th team in the world and this is officially their worst ranking ever.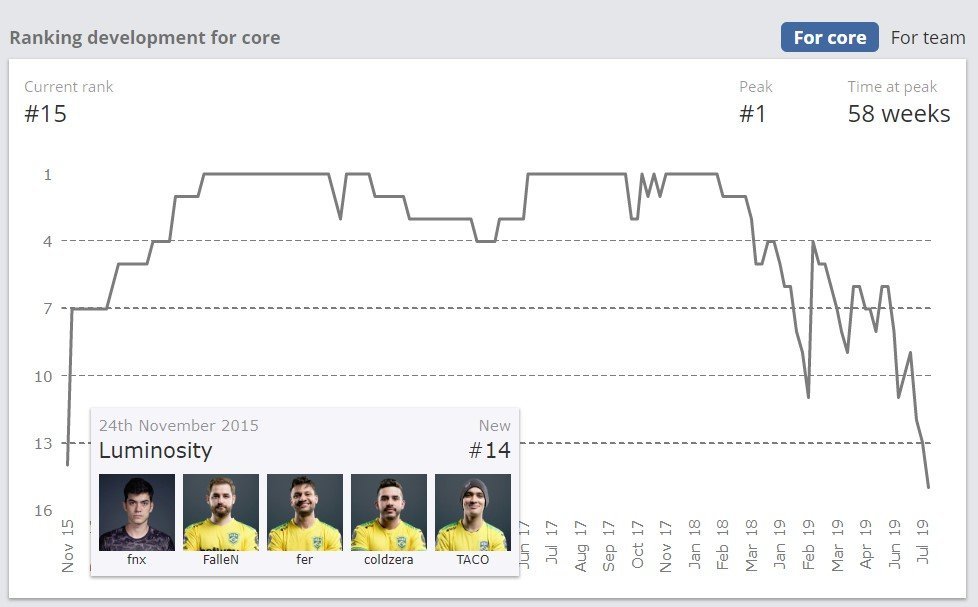 What happened to MIBR?
The main problem of this team is that they are making the same mistakes each year. They've been replacing their statistically lowest player over and over again, yet nothing changed. It is funny, isn't it? They are doing the same thing over and over again and expecting a different result. Whenever a problem accrues, they won't admit that the core is the problem, they just replace one player and expect that it will fix all. You can't have 4 rifflers and 1 AWP player on the team.
Someone has to play support. He will have bad statistics but his impact on the game is huge. You can't expect from TACO to buy the full utility, boost other players, pop-flash them, play with SMG so he can have money for utility and to have a high frag score in the same time. It is simply impossible. If there is a problem, you need to solve it, not just blame everything on one player, replace him and move on. That is not how it works. This is not the full story of what happened to MIBR. It is only a piece of it but I hope you can understand why the same team that was invincible in 2017 can't win against some Tier 2 team now.
What is next for MIBR?
We can't know for sure what is next for them, with all that happened to MIBR. However, one thing is for sure, zews can't continue to play in an active roster. He needs to go back to the coaching position. There are some speculations that LUCAS1 twin brother HEN1 may join MIBR and become the next player in this team. We can't know for sure, only time will tell.
UPDATE: MIBR's current roster consists of FalleN, nKgV- , fer, TACO, and meyern.