The new CSGO operation called "Shattered Web" just arrived in the last update. We here at CSGO Tips will try to make it as simple as possible. Stay tuned, read this article and find out everything that this update brings.
CSGO Update 11.18.2019.
Let's get started with the most important things from this update
First of all, the most anticipated Cache back. The new Cache is now officially in the competitive matchmaking pool. The price of the SG553 is now set at $3000. On the other side, the price of the Galil and FAMAS has been reduced by $200 ($2050 and $1800).

There are also some adjustments in the Danger Zone and a few bugs have been fixed. If you want to read a full Update, make sure to check it here. The most interesting thing about this update is the, of course, the new operation, CSGO Operation Shattered Web. It has been more than 2 years since the last CSGO operation and introducing new CSGO Operation Shattered Web will surely make a great impact on this game.
CSGO New Operation Shattered Web
This operation features all-new equippable Agents, weapon collections, missions, and more!
Agents
There are 22 new agent CT and T characters equippable on any map. All-new CT Operators and T Agents are available as mission progress rewards. Complete missions and earn Stars to unlock them and equip them for deployment. Or equip the default Local Agent or Operator to use the pre-existing map-based characters.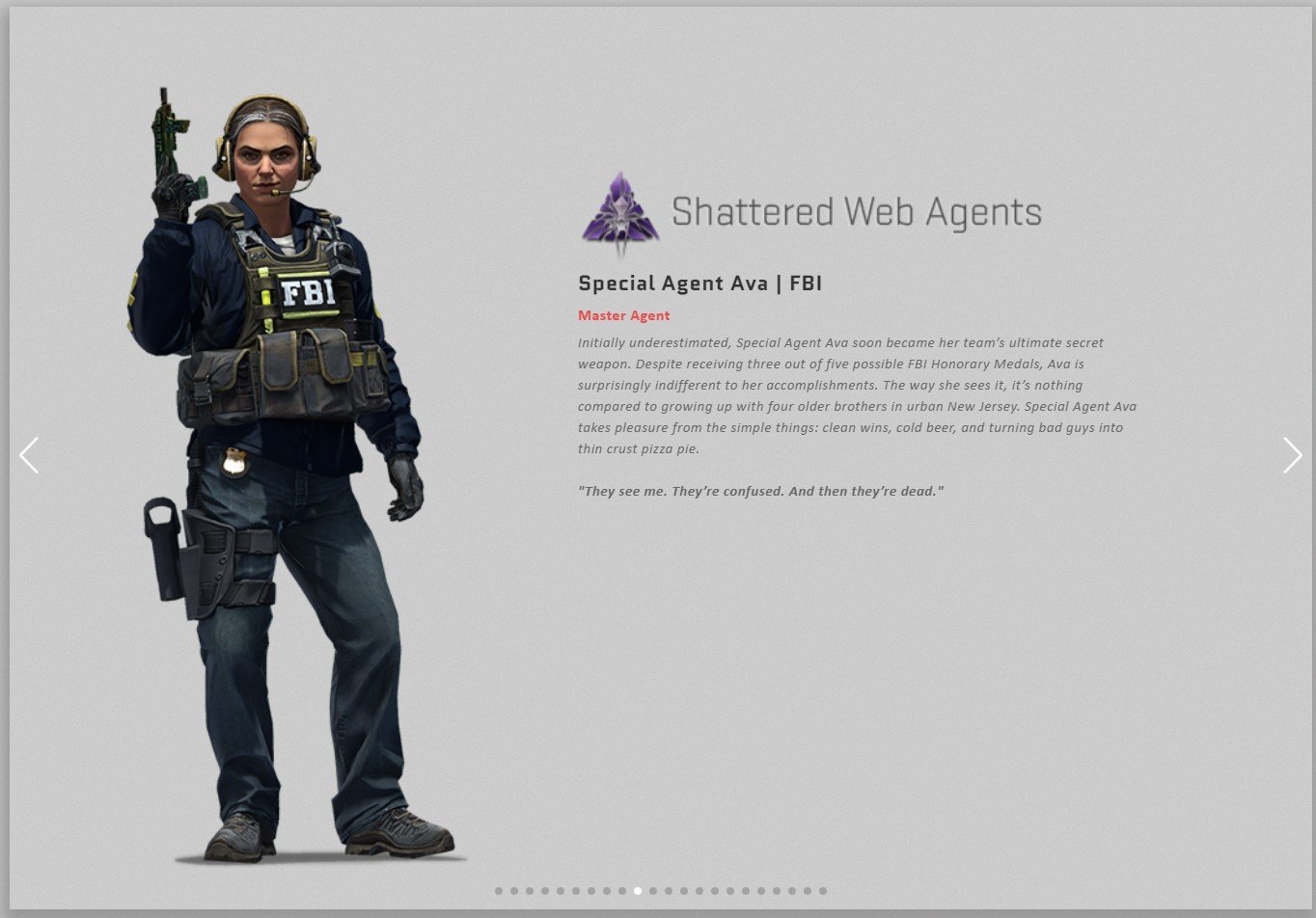 End-of-Match Accolades
Counter-Strike is more than just score and kills. Sometimes it is nice to know who throwes the most effective nades and who makes the most damage in the game. This operation brings you just that. There are:
The Tenderizer – A player with most assists
The most valuable MVP – A player with most MVPs
The Workhorse – A player with the best ADR
The Barber – A player with most dinks
The Colonel – A player with most chickens massacred
Missions
Despite being unique, this new CSGO Operation Shattered Web also has missions available. You will receive a new mission card each week. Those cards feature 6 non-overlapping missions that can be completed in any order. Complete missions and earn stars in Casual, Competitive, Danger Zone, Guardian, and more to complete each card! To make those missions fun, there are also new maps.
Make the most in low-gravity playing Flying Scoutsman missions on a new Lunar outpost in Lunacy, and battle for last place in an all-new Community-created Danger Zone map, Jungle. These are also available for regular matchmaking games.
New CSGO Cases
Earn rewards from the all-new Norse, St. Marc, Canals, and Shattered Web weapon collections. Yes, you heard me right, there are 4 new weapon collections in CSGO. The Shattered Web case also contains 4 new knives. Open a Shattered Web Case for a chance at one of four new knives, the Paracord handled field knife, the Survival, the Nomad, and the Skeleton knife.
If you want to find more about this operation, you can check it here.