Nikola "NiKo" Kovač started playing Counter-Strike when he was only six years old. He spent his early life in Bosnia and Hercegovina where his parented owned a local gaming cafe. When CSGO (Counter-Strike Global Offensive) came out, NiKo became the best player in his city and later in the country too. He wanted more challenges, so he moved to Serbia and started playing for iNation and GamePub.
Professional career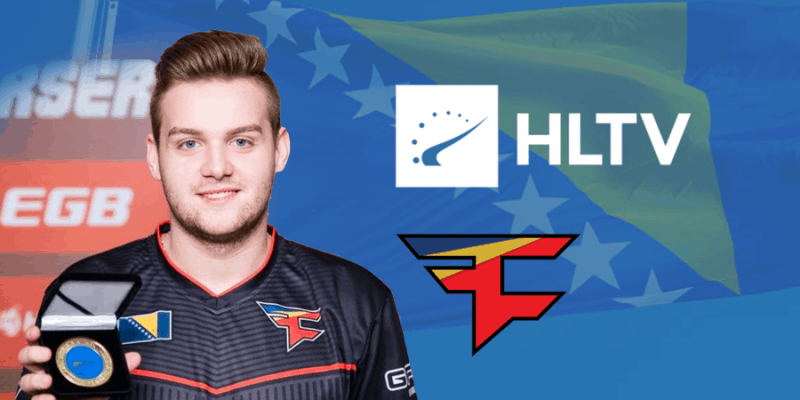 NiKo started his professional CS:GO career in German team mousesports in 2015. They were tier 2 team at the time. Mouse did not recognize NiKo's potential and he was at the bench for most of the time in 2015. Later he became their best player and stayed in mouse for almost 2 years. Despite the fact that mouse never made it to the semi-finals of any big CS:GO tournament, NiKo was placed as 11th best player on HLTV list in 2016.
His CS:GO career came to a real breakthrough in 2017 when NiKo decided to move to tier 1 team (7th at the moment) FaZe. In an attempt to make a team of superstars, FaZe offered an enormous $425,000 to buy NiKo from mouse and that broke all the previous transfer records. In CS:GO world, NiKo is currently the world's most valuable player, and it seems his career is only beginning.
He said in one of his interviews that his goal is to become the best CS:GO player in the world, some say that he already is, even though coldzera was placed at that spot in 2017, and s1mple in 2018, NiKo was second in 2017 and third in 2018, behind s1mple from Na'Vi and dev1ce from Astralis. 2019 was rough for this player and his team. However, he still managed to end up in Top 20 on HLTV list as an 11th ranked player. He is currently just 22 years old, and it is only a matter of time when he will hit the first place.
The Juan Niko
NiKo earned a nickname Juan Niko in Counter-Strike community thanks to his skills with Desert Eagle, known as Deagle. After singlehandedly killing the whole Titan team with just Deagle, everybody was talking about him.
He is still dangerous with Deagle and FaZe is taking eco-rounds all thanks to this individual skill. However, Deagle is not his best weapon, he is even more dangerous with AK-47 and AWP.
How to Play Deagle Like NiKo?
Let's set things straight, it is almost impossible to play Deagle as he does. However, you can improve your Deagle skills with just a few CSGO Deagle tips. First of all, you will need practice. Go on an offline server with both and play only Deagle until untill you can feel the weapon and make at least 20 headshots in a row. NiKo uses very small crosshair which helps him a lot with his Deagle plays. His crosshair is just a simple dot and it is relatively easy to aim at the head if you have only 1 small dot that you have to place on the head of the player model.
Another thing you should be aware of is Deagle's inaccuracy after jumping. Deagle has a slow re-accuracy after jumping which is close to 2 seconds. That's why you should always quick-switch before shooting after jumping. Here is an example from real-life situation. Look what happened to karrigan, he got CSGOed due to this problem.
As you can see on this video, karrigan aimed directly at the head but he did not connect that shot. The main reason for that is the occurrence of this problem. If he just switched to knife and back to Deagle (quick switch) he would definitely connect that shot.
CSGO Deagle Tips:
use small crosshair
train with bots online
stay steady while shooting
switch to knife and back after jumping
NiKo in 2019
Niko is currently playing for FaZe clan as a riffler, secondary AWP and he even takes the in-game leader role when needed. On the FACEIT CS:GO Major, NiKo was so furious after going 0:2 in The Legends Stage, that he decided to took the in-game leader role from Karrigan in the middle of the match. NiKo had a 1,17 rating on HLTV in the last 6 months of 2019. The biggest tournament FaZe won in 2019 was ESL: One Belo Horizonte and NiKo was the MVP of that tournament with 1,40 rating and a total of 118 kills in the Grand-Final. He is still advancing as a player and he intends to be the very best in the upcoming years.