Pros
Great Odds
CSGO Markets Offer
Special Bets
Most of you haven't even heard about Midnite CSGO betting site. In this review, I'll try my best to present you with all of the pros and cons related to one of the upcoming CSGO betting sites.
How to Register?
Before we start, it's important to mention that Midnite isn't live just yet. However, Midnite hooked us up with a code that will allow you to skip the queue and join the site instantly.
By using the code CSGOTIPS, you can get instant access to the site and enjoy all of the benefits Midnite CSGO betting has to offer.
Signing up is really easy. I'll guide you through the entire process:
Visit Midnite and click the "Early Access" button in the top right corner
Provide them with your e-mail address and country
Enter the code

CSGOTIPS

to get instant access to the site!
Even though you'll see a huge list in front of yourself, don't worry, you're ahead of them all, but only if you use the code above.
Keep in mind that Midnite is restricted in some countries. You can find that list here.
Esports Coverage
When it comes to esports coverage, Midnite is on point. Alongside the most popular titles, this is what else Midnite CSGO betting site will provide you with.
CSGO
League of Legends
Dota 2
Call of Duty
Rainbow Six
StarCraft 2
StarCraft
Overwatch
Rocket League
Hearthstone
As you can see, the coverage here is really good. From what I was able to find out, Midnite CSGO markets are by far the best out there.
Trust me when I say it, you'll have a hard time finding a betting site that will provide you with this coverage, odds and variety of special bets.
Midnite CSGO Betting
As mentioned above, Midnite CSGO markets are excellent. When it comes to coverage, this betting site will provide you with three betting options.
Pre-match betting, live betting and outright betting are all associated with CS:GO. Keep in mind that not all of the esports covered by Midnite are available for live and outright betting.
Alongside all the popular events such as BLAST Pro Series, Majors, IEM, StarLadder, Midnite CSGO markets are also covered with various other qualifiers and lower-tier events.
For instance, you can bet on the United Masters League, ESEA MDL Australia, Legends L33T Cup, and so much more.
Odds & Special Bets
I really don't like talking about the odds because most of the people don't understand that they should always be on the lookout for the best odds possible.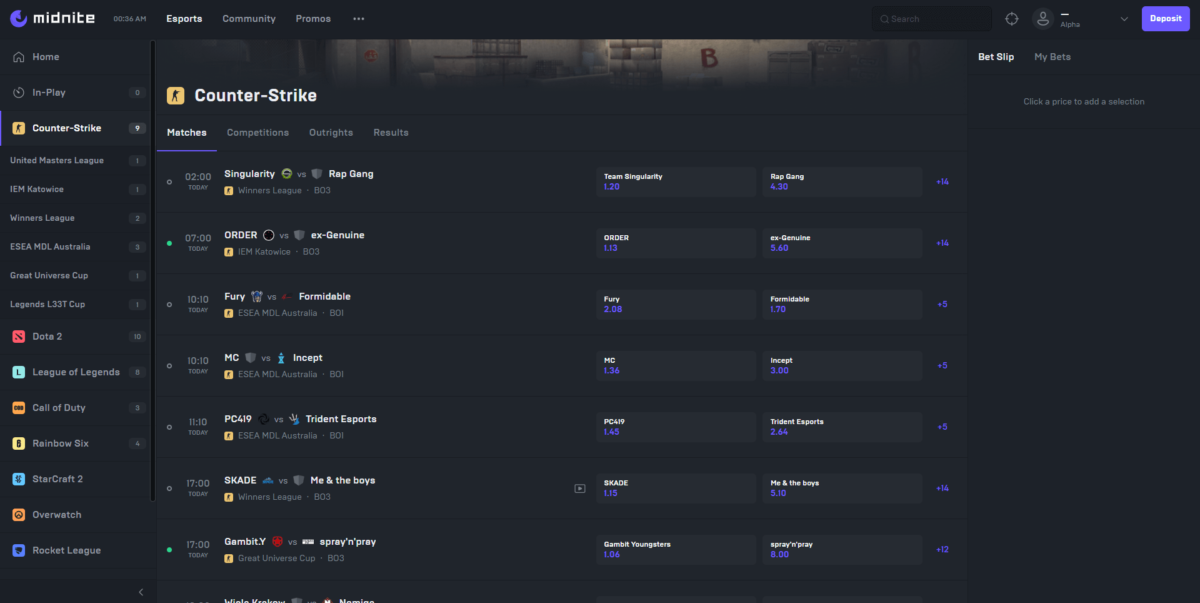 I believe that Midnite is one of the betting sites that deserves a chance mainly because they're offering higher odds once compared to other popular CSGO betting sites.
Alongside competitive odds, Midnite CSGO coverage comes with various special bets. On average, Midnite will provide you with 10+ specials for every CSGO match out there.
This is what you can expect:
Match Winner
Map 1 & 2 Winner
Total Rounds Played – Over/Under
Rounds Handicap
Match Handicap
Pistol Round Winner
Correct Score
From what I was able to find out, there aren't any special bets provided for outright betting, but since this betting site is still work in progress, I'm positive that they'll add plenty of those options in the near future.
Types of Bets
It's really important that CSGO betting sites in 2020 provide all three types of betting. This includes pre-match betting, live betting and outright betting.
I was thrilled when I saw that Midnite CSGO betting covers ticks all of those boxes. Alongside pre-match betting and live betting, this betting site also offered outright betting.
However, there are quite a few sites out there that provide much better outright betting once compared to Midnite, but I already told you that this site is still being developed.
If you're into live betting, then you're in for a treat. If you're like me, you don't like to wait out those "greyed out" matches. Well, this isn't the case with Midnite CSGO betting.
Promotions and Bonuses
Midnite is a relatively new site on the scene. Since they are still invite-only, there is no welcome bonus.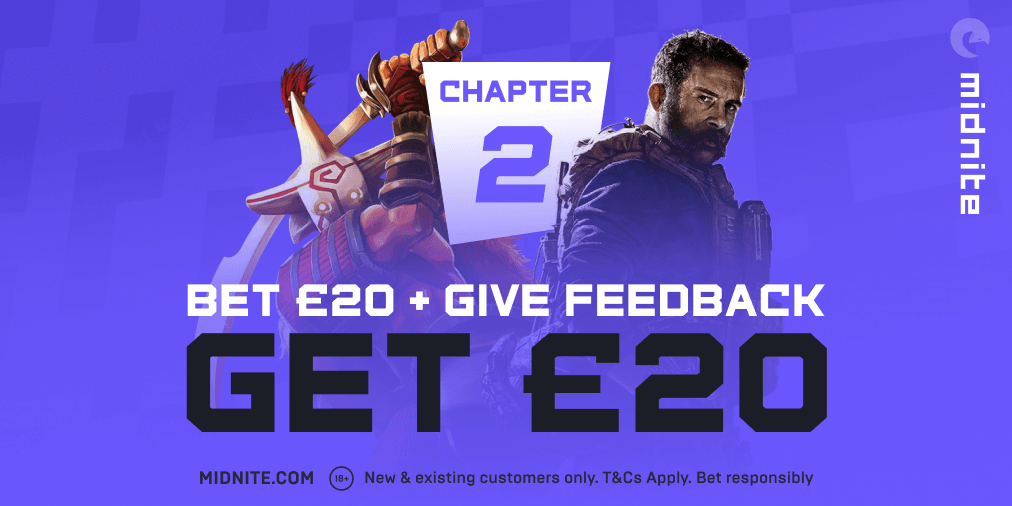 However, there is an ongoing promotion where you can get £20 in bet credits with no strings attached.
This bonus is active for both new and existing customers. All you have to do to get £20 in Bet Credits is to bet at least £20 and give them feedback on the new version of Midnite.
You can leave feedback on their Twitter or Discord, whichever you prefer. The best thing is, there are no wagering requirements and you can spend your betting credits however you prefer.
Customer Support
One of the things that I really liked about this site is their customer support. They have fast and friendly support. You can just chat with them like talking to a friend.
There are 2 options, you can either use live chat on their page or you can join their Discord and talk with one of the admins.
If you have any questions or problems that do not require an admin to solve, you can always ask someone from their Discord community.
Deposit and Withdrawal Options
Once you add your credit card information, all payment information are securely stored with World Pay.
You can easily deposit and withdraw money without any further confirmation. However, if you want to deposit more than $30 you will be asked to enter your CV2. Deposits are instant and there are no fees. The minimum deposit for all payment methods is £5.
These are all the payment options available to you(more options will be added soon):
Debit Cards: VISA, MasterCard, Maestro
Fee: NO FEE
Deposit Process Time: Instant
Withdraw Process Time: 1-5 working days
Minimum: £5
Type: Debit Card
Credit Cards: VISA, MasterCard
Fee: NO FEE
Deposit Process Time: Instant
Withdraw Process Time: 1-5 working days
Minimum: £5
Type: Credit Card
eWallets: Skrill, Neteller
Fee: NO FEE
Deposit Process Time: Instant
Withdraw Process Time: 24 hours
Minimum: £5
Type: eWallet