Although it does not seem like a big deal, choosing the right gaming mouse for CSGO can have a great impact on your gameplay. To clarify, not every mouse will be everyone's liking. Some of you may love crazy designs and RGB lighting like the R.A.T. mouses provide and of course, there are those who like simplicity and they will be perfectly happy with a regular Logitech mouse.
However, we can't please everyone so we will share our thoughts on this topic and try to pick the best mouse for CSGO based on the things that actually matter.
The Best Gaming Mouse For CSGO – How To Choose??
There are a few things you should pay attention while choosing the best gaming mice for CSGO. You should look at weight, DPI, extra buttons, sensor and the size of the mouse.
We won't go too deep into the details, here are the most important things: an optical mouse is better than a laser, higher DPI is not better, wireless mice aren't faster.
Weight & Size
Let's say you are tall and have big hands, it is logical that you need a bigger mouse than someone who has small hands. You want your mouse to feel natural in your hand like it is a part of you.
Also, if you are used to heavy mouses like the ones from the old days, you should definitely try to find a heavy mouse again. If you try to switch, it won't feel natural and it would be too light for you to feel it right. Yes, you should feel the mouse so you can be more accurate in the game.
The same goes with the light mouses, if you are from a new generation of games, you are probably used to light mouses and you won't be comfortable with the heavy mouse, it just won't feel right. After all, we are the creatures of habits and we can hardly change what we like.
FUN FACT: The average weight of a mouse used by a professional CSGO player is 89.16 grams!
DPI
Another thing you want to pay attention is DPI, you need a CSGO mouse with a few profiles so you can change your DPI. I never use the same DPI in the game and while browsing the net. Your in-game mouse sensitivity has to be constant and as low as possible.
Try to find the right balance and you are good to go. You don't need mouses with millions of DPI, you are not a graphic designer and it won't help you. Most of the professional players play on 400-800 DPI. However, you need to have the ability to switch that DPI so you will need a mouse with additional software.
Why is that? Well, let's assume that you want to play at 400DPI. This will result in a relatively slow mouse cursor motion and it will almost be unusable while browsing the net or doing something other on your PC.
This issue can be resolved by having 2 mouses but it is not smart. You need to get used to one mouse and use it all the time. That's why you need a mouse with additional software. This way, you can play CSGO at 400 DPI and increase that DPI while out of the game.
For example, you can set up 2 profiles, one for browsing the net on 1600 DPI and one that will be used only for CSGO at 400 DPI. So if you want to find your own best gaming mouse for CSGO, you should definitely consider DPI profiles as one of the key ingredients.
Moreover, you can also set different RGB colors at each profile. Besides it looks cool it can also be helpful because you can connect the color with DPI and know exactly what profile are you using currently.
Extra Buttons
Extra buttons, yes, who does not like to see a million buttons on a mouse?? Well, I am one of those who does not like it. I don't believe you need 20 extra buttons on your mouse while playing CSGO.
You might need it in some RPG games but this game does not require it. You will need 2 to 3 extra buttons and that is enough.
I personally use one button that activates the microphone so I can give info fast and I don't have to use my keyboard for it. I use one additional mouse button that quickly switches to flash grenade because you just don't want to search for them and scroll to find it.
You need to minimize your reaction time and adding a flashbang to one of your mouse buttons will help you boost your rank in the game. You can react faster and use flash to get out of dangerous situations. Smokes can also be useful but they are mostly used for map control.
However, smokes can be used to avoid getting additional damage from molotovs. If you have a third button, it would be smart to bind smoke grenade on that button. If someone throws a molotov on you, you can decrease your reaction time to find smoke and avoid losing 30-40 HP more.
Take note that the best gaming mouse isn't the best mouse for CS:GO. MMO RPG games require more additional buttons and some gaming mice that have 10 buttons are useful in those games.
However, in CSGO, a gaming mouse with 10 extra buttons will be useless. Look at them as obstacles because you can accidentally press any of those extra buttons while trying to press the right one. Simple mouses are better in CSGO.
Optical vs Laser Sensor
Well, I don't know how to simplify this but modern gaming mouses are basically cameras. They constantly take pictures of the surface underneath (your Mousepad).
These images are converted into data for tracking the peripheral's current location on a surface. We are not interested in that, we don't want to know how the mice works, we want to know which one we should choose, laser or optical.
Logitech invented a laser mouse back in 2004. It's called a vertical-cavity surface-emitting laser diode (or VCSEL) which is used in laser pointers, optical drives, barcode readers, and more. All in all, laser mouses are more accurate than optical ones.
However, that can be a problem sometimes, especially while playing CSGO. The problem is that they can be too accurate, they pick up useless information such as "hills" and "valleys" that can't be seen by the human eye on your mousepad.
This can be trouble especially when you move your mouse slowly. It can cause mouse acceleration and your mouse cursor will move faster than you wanted it to move.
It is true that a laser mouse can work even on a window, but who needs that?? We need a mouse that can work properly on our mousepad. That is why we think optical mouses are better for this game and they are also cheaper.
MOST USED MOUSES BY PROFESSIONAL CSGO PLAYERS:
ZOWIE EC2 – 30,76%
LOGITECH G PRO WIRELESS – 16,20%
ZOWIE s2 – 5,76%
---
ZOWIE EC2
The first gaming mouse for CSGO on our list if the mouse that is also mostly used by professional players. Roughly 30% of all the players from the pro scene use this mouse. Why is that? Well, it is all in the simplicity of the mouse.
This mouse has 3 regular buttons and only 2 extra buttons. Like I already said, 2 extra buttons are enough for CSGO. You can use one button for mic and the other for fast flash. For example, both dev1ce and NiKo use this mouse and they are one of the very best players in the world. On top of that, this mouse is relatively cheap and it is affordable for everyone.
Price: $69,99 USD
---
This mouse for CSGO is as simple as it can be and yet it has everything one can hope for. It comes with an optical sensor, 5 buttons and adjustable DPI. You can change your DPI from 400 to 3200.
Keep in mind that more DPI does not necessarily mean a better mouse, at least for CSGO. Most of the professional players play on 400DPI or 800DPI so you won't need more either. More DPI only means a faster mouse and we all know that we need a slow and steady mouse for our aim to be precise.
Moreover, this mouse is a medium size so it should be good enough for everyone. The price of this mouse is also one of the reasons we recommend it, almost everyone can afford it. If you want a good mouse, this is the cheapest one you can get. Everything cheaper than this is trash.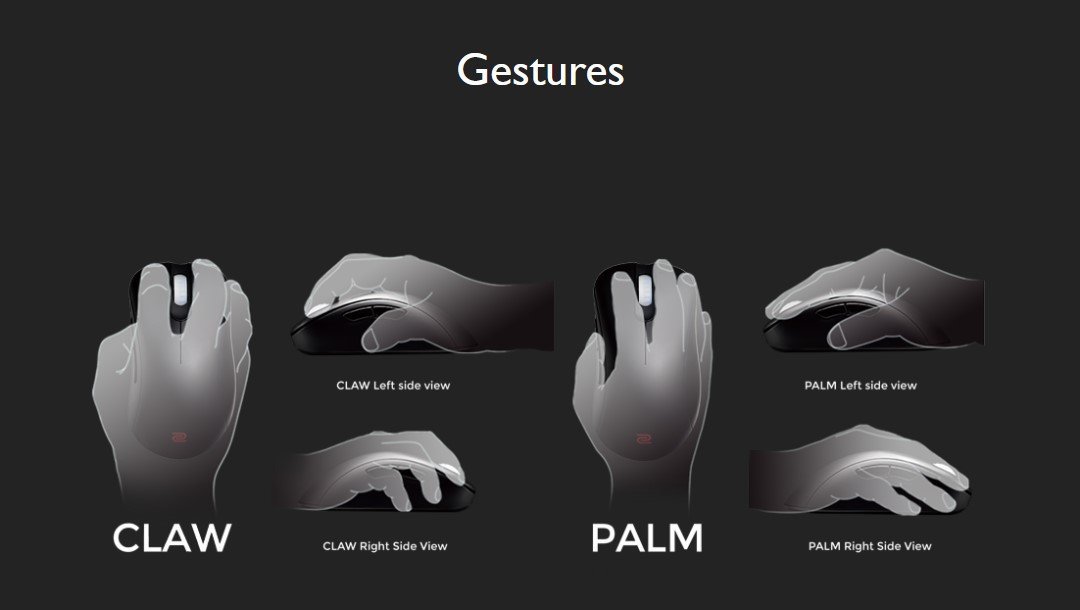 Whatever your gaming style is, either claw or palm, this mouse fits perfectly into your hand. There are variations of this mouse and you can also get it in a different size. If you have a really big hand, you can order it in a larger size.
---
RAZER BASILISK ULTIMATE
For those who like RGB lightning, tons of available DPI profiles and futuristic design, we have just the right mouse for you.
Price: $169,99 USD
---
General
DPI: Up 20,000 DPI focus + optical sensor with 99.6% resolution accuracy
USB: USB 2.0/3.0 Wireless dongle
Buttons: 11 programmable buttons
Size: Medium, 107 grams
Design: Right-handed ergonomic
Extras:
14 CUSTOMIZABLE RAZER CHROMA™ LIGHTING ZONES
RAZER HYPERSPEED WIRELESS
CUSTOMIZABLE SCROLL WHEEL RESISTANCE
RAZER FOCUS + OPTICAL SENSOR
RAZER OPTICAL MOUSE SWITCH
UP TO 100 HOURS OF BATTERY LIFE
5 ON-BOARD MEMORY PROFILES
RAZER MOUSE DOCK
100% PTFE MOUSE FEET
---
This mouse is a little bit more expensive but it is one of the best mouses money can buy. If you want your gaming table to look futuristic, this mouse will be a great addition to your setup. It has so many options I really don't know where to start. Let's go through all of those extras first.
This mouse comes with 14 customizable lighting zones. Each lighting zone on this wireless mouse can be individually programmed in Chroma Studio, making it a standout addition to your battle station as you light up your opponents.
Razer Hyperspeed wireless is 25% faster than any other wireless technology available, you won't even realize that you're gaming with a wireless mouse due to its high-speed transmission, lowest click latency, and seamless frequency switching in the noisiest, data-saturated environments.
The current industry best is 270 USED while this mouse has less than 195 USEC. Don't get confused here, the lower USEX, the better.
Customizable scroll wheel resistance. The Razer Basilisk Ultimate comes with a dial on its underside that lets you tweak the resistance of its scroll wheel to be as smooth or as tactile as you want. With this level of personalization, you'll be able to more accurately perform bunny hops, weapon selects, and other scroll wheel actions.
5 on-board memory profiles, you can bring your settings anywhere and be match-ready in no time. Those profiles are stored into mouses onboard memory and you can use them anywhere you go.
Each profile can be different, you can use different DPI settings, different lightning and colours, different sensitivity and so on. For example, you can set Profile 1 to be only for playing CSGO. Profile 2 can be set with a little more DPI so you can use it while you browse the web. The other profiles can be set for some other games you play, maybe LOL or PUBG.